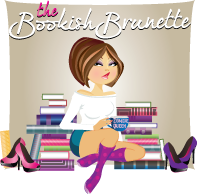 Continuing my series of interviewing the mavens of the book review blogging world, I've managed to convince Ashley to take some time out of her busy schedule and answer the same questions I've put to Julie and Renae. Ashley runs the popular and fiendishly active Bookish Brunette blog, where you can get your reviews served up with a side of saucy attitude and verve. Definitely swing by her blog to see why so many others are doing so, and enjoy her answers below!

1. It used to be that we were admonished not to judge a book by its cover, yet these days most novels sport gorgeous artwork and design. With so much eye candy to choose from, can you nominate your three recent favorites, and explain what in your opinion makes for an excellent cover so that it stands out from the pack?
Okay, for the sake of sport I chose several VERY different covers that I'm intrigued by for very different reasons! 🙂 because I'm awesome like that!
Phil:
I'm finding it fascinating that each book review blogger is picking a different set of covers (though two of them have belonged to Kendare Blake). I'd thought that perhaps one would be a common pick, but it turns out that these varied selections are in a way answering my very question: with so many excellent covers out there, it seems they don't influence everybody in one direction, but rather highlight what each reader already enjoys. 
2. Everybody enjoys different amounts of romance in their novels. Some want plenty of bodice ripping and graphic descriptions, while others are content for the action to take place off-page. Where do you fall on the spectrum? Is a strong romantic element necessary in a novel for it to really hold your interest? Can you nominate a novel that contains an example of your favorite flavor of romance?
Hmmmm… This is very hard for me, as I'm a very eclectic reader! I read anything from YA to hardcore erotica (I know right?) so, to say I had a PREFERENCE in the amount of romance in a novel in general isn't even possible.
To say that I have "expectations" based on what I thought a certain book would be about would be more accurate.
Take This is Not a Test by Courtney Summers (released June of 2012) for example. There's mention of zombies, death, post-apocalyptic awesome… But I really didn't get a "romancey" vibe from the synopsis.
So going IN- I did not expect one, therefore I was neither disappointed by the lack of romance or disheartened by the any over done "I love you THIS much" romance (because there wasn't one.)
See what I mean?
Now, give me a book like Fifty Shades of Grey and I EXPECT a lot of dirty, raunchy sex. (which I got in spades by the way…) but had I not- I would have been irritated.
Say romance is a given. They only thing I EXPECT and basically the only "strong romantic element necessary" would be an actual CONNECTION. I need to FEEL like the characters are connecting, the romance (whether it be YA or straight sex) has to feel REAL to me.
strong romantic element necessary
Phil: Perfectly put – expectations are a great way of determining what readers will find satisfying in terms of romance. Walking into a YA novel has its own set, while 50 Shades of course promises to deliver a very different set of scenes. The take-away here is to clearly communicate through cover, genre, and blurb what the reader should enter the novel expecting–less you fail to deliver and earn their ire.
3. Diversity in genre literature has been a contentious topic these past couple of years. Some hold that authors should explore different cultures, races, and sexual orientations, while others believe that authors should 'stick to what they know' and not appropriate from other cultures. What do you think? Do you applaud an author for trying something different, even if they don't get it quite right?
Well it depends… Like if you mean a zombie horror author, going vampy paranormal romance… Hey, a good book is a good book. If they do BOTH well- then who am I to judge?
Now, if they write contemp literature and branch into gothic horror.. And it's the most godawful thing ever? Hey… Don't beat a dead horse. You know? You gave it a shot and it sucked. Not everyone can write EVERYTHING. In fact, I've only read a FEW authors that can branch from here to there and back again without blinking an eye and ROCK the bookish world each and every time.
Kendare Blake (Anna Dressed in Blood), is obviously a female- wrote one of the BEST male characters I've ever read.
Rusty Fischer (Zombies Don't Cry & Vamplayers) obviously a male- writes the most EPIC female characters I've ever read!
Gena Showalter (Alice in Zombieland & Lords of the Underworld series) writes  YA with a hint of romance, super swoonworthy leading man and zombie awesome… And Adult Paranormal Romance filled with sex, hot sex and MORE hot sex! Oh… And a plot too! 🙂

Phil: This is as uplifting an answer as I've received yet – clear examples where other authors have taken the leap and managed to land on solid ground. I'm always fascinated by examples of men writing great female protagonists, and so will definitely be checking out Rusty Fischer to see how he pulled it off!

Thanks again to Ashley for taking the time to answer these questions, and be sure to check out her blog to get more inside advice on what she thinks is worth reading out there in the ever growing jungle that is the publishing world!