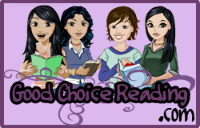 Today I'm lucky to have Damaris of Good Choice Reading answer some questions in my latest installment of book blogger interviews. Damaris heads up a crack team of reviewers at GCR which include Maria Perez-Martinez, Wanda, and Amanda. They're a powerhouse blog, where you can always find giveaways, blog tours, interviews, and reviews of the highest quality, so be sure to check out GCR after the interview!


It used to be that we were admonished not to judge a book by its cover, yet these days most novels sport gorgeous artwork and design. With so much eye candy to choose from, can you nominate your three recent favorites, and explain what in your opinion makes for an excellent cover so that it stands out from the pack?
Right now my top favorite three covers are Dark Heart Rising by Lee Monroe, Falling Kingdoms by Morgan Rhodes, and This Is Not a Test by Courtney Summers.
I just love them! This might sound a little weird, but when I look at a book cover I tend to love the ones that have some kind of emotion, or scream action packed off the cover. For example, Dark Heart Rising makes the book seem like it's an emotional love ride. Falling Kingdoms screams kick-butt character and lots of action in the book. This Is Not a Test also tells me that the book is very emotional – and it is.
So I tend to get pulled towards books like these and buy them strictly based on the cover. Sometimes I don't even read the blurb and jump right into the book based on the cover. I think book covers are important today. I can't even begin to tell you how many books I would put back on the shelf at the bookstore because the cover just didn't cut it. Covers are vital to me.
Everybody enjoys different amounts of romance in their novels. Some want plenty of bodice ripping and graphic descriptions, while others are content for the action to take place off-page. Where do you fall on the spectrum? Is a strong romantic element necessary in a novel for it to really hold your interest? Can you nominate a novel that contains an example of your favorite flavor of romance?
Honestly, it all depends on my mood. I am a big romance junkie. Any book I read has to have some type of romance element to it. However, I am not big on graphic descriptions. I can read them and enjoy them, but maybe once or twice throughout the book. I don't really read Erotic romance for this reason. I don't like every chapter to be strictly about sex.
I've noticed that lately I've been enjoying books that do not focus strictly on the love aspect. As long as I know somewhere down the line two characters fall in love, I will read it.
Diversity in genre literature has been a contentious topic these past couple of years. Some hold that authors should explore different cultures, races, and sexual orientations, while others believe that authors should 'stick to what they know' and not appropriate from other cultures. What do you think? Do you applaud an author for trying something different, even if they don't get it quite right?
I think the author should stick with what they know. If they are writing something they have no clue about and spend time doing research I would think their story would come off almost like a history lesson. While the author is learning so are the readers. I don't mind reading books about different cultures, races and sexual orientations, but only if the author has had some kind of experience.
Phil: Thanks Damaris for participating, and people, definitely head over to GCR to check out more material from Damaris and her team!